TOP FIVE WIRELESS CHARGERS in 2020
Today's review is on the TOP FIVE WIRELESS CHARGERS
 in 2020.
Through extensive research and testing, I
've put together a list of options that 
will meet the needs of different types 
of buyers.  So whether it's price 
performance or its particular use we've 
got you covered.
Now let's get started.
Wireless chargers are for the most part 
aesthetically very similar 
and the features that they come supplied 
with are not exceptionally versatile. 
that being said most people would 
immediately assume that all wireless 
chargers offer roughly the same value,  
however that's not necessarily the case.  S
ome models are simply designed in a 
better way, 
they come supplied with unique exquisite 
features and settings,  offer a bit more 
wattage power and you don't even need to 
spend a ton of money for a quality one. 
No. 5: Anker Power Wave Wireless Charging Pad
This sentence perfectly describes our 
opener pick,  the Anker's power wave pad, 
as always let's begin by testing its 
compactness and portability, 
afterall a wireless charger isn't 
exactly all too convenient if it is big 
bulky and unwieldy. The dimensions of A
nker's power wave pad measure 3.94 
inches by 3.94 inches by 0.39 inches, 
and it weighs only 2.4 ounces in that. R
egard it's practically weightless and 
small enough to fit inside a pocket, 
what's more, it's slimline kind of design 
is quite eye-catching,  
and it could be a perfect addition to 
your home desk or working office. 
One of the coolest features of anker's 
power wave pad is the TPU surface, which 
prevents the devices from sliding off 
the surface where they are placed on. A
gain this is an excellent feature for 
pretty much any kind of application, 
you will need to determine the output 
wattage of your phone or any other 
device you want to charge and pick the 
version of anker's power wave pad and 
accord.  
it is available in 5 7.5 and 10 watt 
variants, 
most samsung models operate on 10 watts, 
iphone operates on 7.5 watts while pixel 
air pods galaxy buds and most qi enabled 
devices operate on 5 watts,  
that's not all though,  there are a bunch 
of other interesting features that 
anker powerwave pad comes supplied 
with, 
such as the through case charging 
technology,  the multi-protect safety 
system, 
and informative indicator lights.
The 
through case charging technology enables 
the power wave pad to penetrate cases 
that are not thicker than five 
millimeters,  
which means that you won't need to strip 
your phone for charging 
and redress it 
afterward.
F
urthermore, the multi-protect safety 
system rocks foreign object detection, 
short circuit protection as well as 
temperature control features, which 
essentially means that it's shielded 
from most 
internal and external sources of damage 
and malfunction.
Last but certainly not least,  the 
informative indicator lights flicker and 
change color depending on the current 
status. 
The flashing blue states that metal 
obstructions are detected, 
if the lights flash green, you are using
incompatible adapter or cable, 
if the light is flashing blue for three 
seconds and then shuts down, the anker's 
power wave pad has connected, 
if it persists it is actively charging 
your device. 
All things considered, this is a 
remarkable wireless charger that is 
available at a dirt cheap price,  so if 
you're looking for value and don't want 
to spend a lot of money, 
we highly recommend checking out anker's 
power wave pad!
NO. 4: RAVPower Fast Wireless Charger
After the power wave,  we're going over to R
avpower's catalog wi
th their fast charge model,  basically 
it looks almost exactly like the one we 
just reviewed,  
but it comes supplied with totally 
different features,  so let's see what it 
has to offer.
The dimensions of ravpower's fast 
charger measure 3.54 inches by 3.54 
inches by 0.63 inches, 
and it weighs approximately 4.8 ounces, 
it's just as small and light as our 
previous pick,  so in that regard,  they're 
pretty much equal in the field of 
portability. 
A variant of case through charging 
technology is present here, 
although it's slightly inferior to the 
one anker utilizes.  The ravpowers fast 
charger can penetrate smartphone cases 
that are not thicker than three 
millimeters, 
as opposed to Anker's technology that 
can go up to five,  what we liked about 
this wireless charger pad the most is 
its ability to rapidly charge qi enabled 
phones.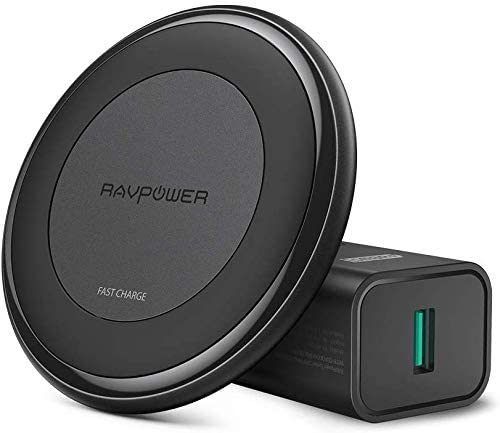 In fact it's almost twice as fast as a 
standard wireless charger, 
which is provided with the exquisite 
hyper-air technology,  regardless of the 
type of device that is connected, 
another thing that separates ravpower's 
fast charger from similar wireless 
charger models is the instant detection 
technology. T
his feature basically immediately 
recognizes different devices and 
channels the charging via appropriate 
wattage routers 10 watts for samsung, 
7.5 for iphones and so on. Sadly there 
are a couple of smartphones and devices 
that are not compatible to use with 
ravpower's fast charger, 
includingLG's G4 G2 and VU2, s
amsung's galaxy S3 S4 S5 and Notes 2 3 
and 4, 
as well as nokia's lumia 820 and 
blackberry z30. T
hese devices require an extra receiver 
before they can be coupled to the fast charger. On the brighter side,  the vast majority of popular smartphones are supported by ravpower's fast charger. The 5 watt variant support nexus 4 5 and 6, the 7.5 watt variants support most iphones,  while 10 watt variants support most samsung phones, from note 5 to node 20, from S7 to s20 plus.  Furthermore, ravpower's charger features smart indicator led lights,  which allows you to recognize its current state, charging passive detecting devices and potential errors alert.  There's one little flaw in terms of design that does not interfere with ravpower's charger, but it can be quite a nuisance. Namely the led indicators are always blinking with orange lights when iPhone devices are being charged,  this does not apply to other smartphone types.  All things considered,  Ravpower's fast charger is among the best fast charging models that money can buy,  and we recommend it to people who don't mind spending a couple of extra bucks on quality.  
NO.3:Yootech 

Fast Wireless Charging Pad
Here we have Yootech wireless charger model 
as our best budget pick.
It's basically in the same price range 
as anker's charger and it offers 
substantially more value for the buck in 
comparison to other low end wi-fi smart 
device charger models. S
tarting off with its design and size, 
the dimensions of yootech wireless charger 
measure 
3.72 inches by 0.48 inches by 3.72 
inches 
and it weighs around 2.08 ounces.  On top 
of the fact that it is petite in size.  I
t's also pretty durable, 
aesthetic-wise,  it looks very modern and 
sleek, you will be able to choose between 
three different color style options, 
including black, 
black with blue and black with red.  The 
color of the charger itself is not to be 
confused with the colors of the led 
indicators,  which will shine differently 
depending on the active status of the 
charger.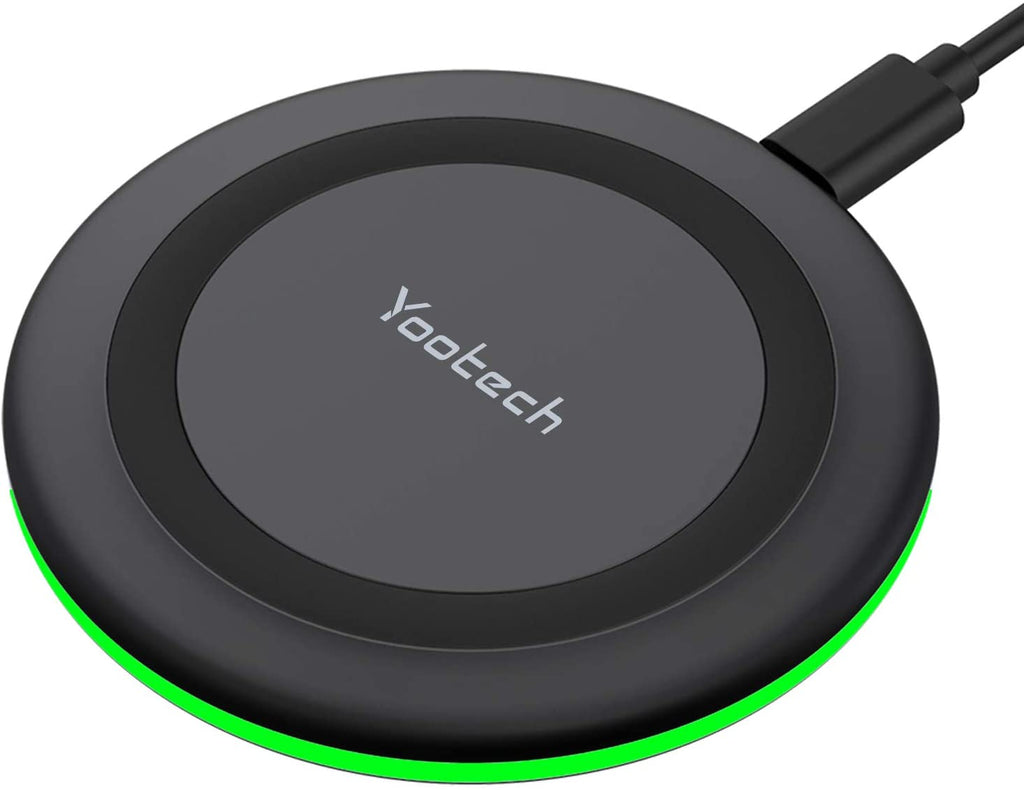 Speaking of which yootech wireless charger 
is equipped with indicator lights that 
operate in pretty much the same way as 
led lights of the models we've just 
discussed,  
the green light shows you that the 
charger is active without any notable 
issues, 
the orange is basically alerting you 
that there might be some problems with 
detection or interference 
and red light points out that connection 
was not successfully achieved, 
there are three charging modes at your 
disposal that correspond to the most 
popular wattage charging options, 
5 7.5 and 10 watts allowing you to 
charge any type of smartphone with yootech 
charger.  F
urthermore,  it's also compatible with 
most types of Airpods.  W
hat we liked the most about yootech's 
wireless charger is the IPT 
intelligent protect tech feature that 
offers surge and short circuit 
protection, 
as well as optimal temperature dispersal 
and control. T
his wireless charger is made of ultra 
durable ABS which is both sturdy and 
resistant to fire, in conclusion youtech's  wireless charger offers way more features and benefits than you'd bargain for at such a low price,  so if you are on the market looking for a low-cost wireless charger, look no further than this model.
NO.4 

Belkin Wireless Charging Stand
One of the most popular wireless charger 
types is the charging pad while the 
second one is the charging stand. 
basically stands are slightly less 
compact and probably a bit less portable, 
but they offer a plethora of additional 
benefits and bring strikingly superior 
advantages to the table in terms of 
versatility and stability. B
elkin's wireless charging stand 
features dimensions that measure 3.58 
inches by 3.91 inches by 4.84 inches, 
and it weighs 6.6 ounces,  Essentially t
here are no significant differences 
between it and most charging pads that 
revolve around size and design, 
this wireless stand also features the 
boost up technology that provides a 
drastic boon to the overall charging 
speed. 
basically it simulates 10 watt charging 
even for devices that are normally 
compatible with lower wattage inputs. S
uch as iphones for example, w
hich are compatible with 7.5 watt 
chargers.  Another thing we really liked 
about belkin's wireless charging stand 
is the set of precision resistors,  
complemented with exceptionally robust 
shielding.  This charger model is very 
durable and it minimizes magnetic 
interferences all the while protecting 
your smartphone or other connected 
devices while they are charging.  Sadly it 
doesn't support the fast charge feature 
for google's pixel 3 smartphone so you 
will have to settle for 5 watt charging,  
be it as it may,  this is still one of the 
most versatile and most valuable 
wireless chargers within its price range. 
NO.1 SINReGeek 10W Slim Wireless Charging Stand
We've opened up our review of the top 5 
wireless chargers with anker's power 
wave pad, 
and we're closing it with the SINReGeek Wireless Charging S
tand.  Oddly enough,  the 10w fast wireless charging stand 
is even smaller than the pad, 
and it offers roughly the same 
functionalities and features.  albeit at a 
slightly heftier price tag, 
the dimensions of power wave stand 
measure 2.55 inches by 3.73 inches by 4.13
 inches, 
and it weighs approximately 3.98 ounces, 
even though it might be a couple of 
ounces heavier,  
it's still ultra small and lightweight.  
just like the above charging pad,  the SINReGeek slim charging
 stand offers fast charging modes 
for most samsung 
and iphone models,  sadly google pixels 
and other qi capable smartphones can 
only be charged with the standard 
charging modes, 
5 and 7.5 watts depending on the model.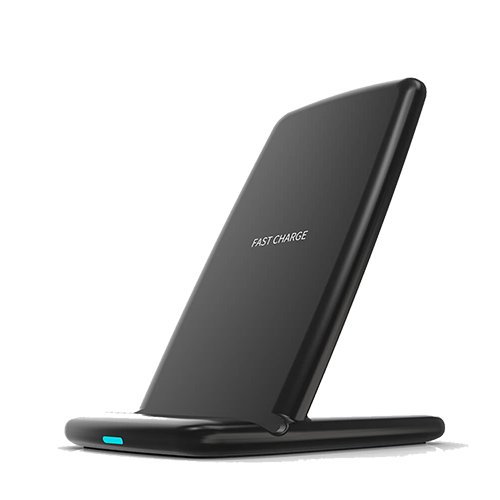 In question 
what separates the SINReGeek wireless charging stand from 
most smart chargers is the fact that it 
will keep the phone in an upright 
position, 
allowing you to use it efficiently even 
when it is charging, 
additionally, it will be able to pierce 
through cases made of rubber plastic or 
TPU material that are not thicker than 
five millimeters which is another huge 
plus.  T
his smart charger comes outfitted with 
led indicator lights that are convenient 
in a lot of ways,  but there's also a bit 
of downfall to them. N
amely some people have reported that 
the lights are simply too bright for 
comfort. I
f you are sleeping in the room where 
you are charging your phone this might 
become 
a sort of a problem at the end of the 
day.  SINReGeek's smart chargers are currently 
some of the finest on the market and
 is an excellent 
representation of their ingenuity and 
quality, 
thanks for reading and that's all for 
now. SINReGeek provide some special discount for promotion a pack combine wireless charging stand and wireless charging pad, please come for the details here. 
More Colleactions of apple wireless chargers