The Best 3in1 iphone airpod apple watch wireless charging station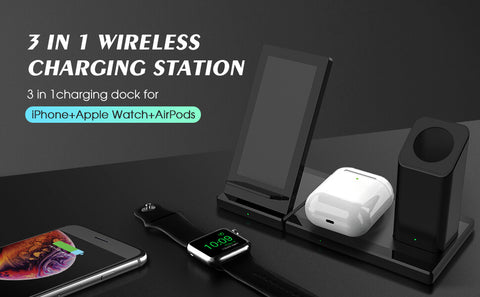 Nowadays, all the apple fan will have the iPhones, Airpods and Apple watch at the same time, But they have a big problem to charge them conveniently, because lots of cables lots of adapters lot of devices, and you need to charge all three together, wow that's a big problem. So how to combine all these three devices to just charge in one place and have a clean solution ?Here we get the idea. This is a 3in1 wireless charging station that charges mobile phone AirPods and Apple Watch altogether, which is from wireless520, a young but experienced brand.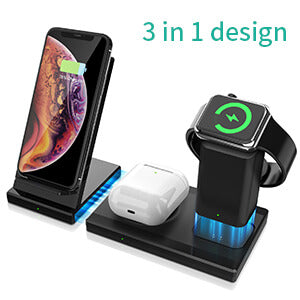 This wireless charger station combines 2 parts, they can work together or separate.
The Left Part: Qi-certified wireless charging stand charges your qi-enabled mobile phones at the full speed. 7.5w for iPhone 11 Pro Max/X/XS/XR/8Plus, 10W for Samsung Note10 pro, note9,note 8,Galaxy fold,S20, S10,S9,S8.
Right Part: a charging station charges your iWatch and AirPods simultaneously via the original apple watch charger.
The special magnetic-click design makes this wireless charging station separate from all the others. Only need 1 USB-C cable, all the devices can charge at the same time. The wireless charging stand and dock can be combined to charge multiple devices with just one cable, or they can be detached for separate use. Easy to carry and charge your iWatch and AirPods when traveling. Special Hidden line design provides you a tidy charging stand, says goodbye to messy cable and desktop
Cable Management
Perfectly hide the data cable to make charging easier and away from tediousness, just place the original iwatch charger in an orderly manner and put it neatly in the charging box to charge. Say goodbye to the endless tangle of cords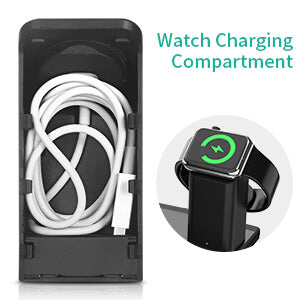 Convenient to Use
You can use a separate charger to charge your phone and watch at the same time, or you can charge your headset and watch. Meet your different needs, easy to use and convenient to carry.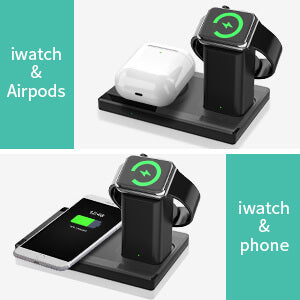 Detachable Magnetic design
Three separate chargers can be used separately at any time. Each charger has a Type-C charging port, which is convenient and fast and can be used on different occasions.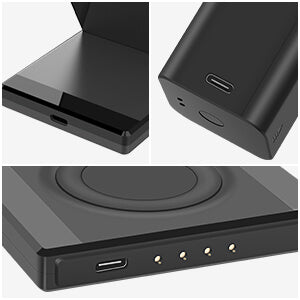 LED Indicator
1.When powered on, LED indicator shines in BLUE for 5s then lights-off, and enters into Stand-by Mode.
2.Charging: LED indicator will shine constantly in GREEN.
3.Fully Charged: For Samsung, LED indicator is off; For iPhone, LED indicator stays in continuous green.
4.FOD/Malfunction: LED indicator blinks in GREEN & BLUE in turns at a 0.5s pace.
5.Watch charging pile: flashes red light during charging, When charging is complete, a red light is displayed.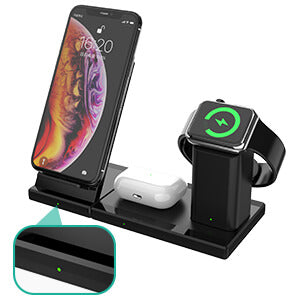 You will get
1 X Wireless Charger
1 X Type C Cable
1 X User Manual