Review of SINREGeek and ESR Magnetic Wireless Car Charger Mount For iPhone 12
There are more and more brands released their Magsafe compatible wireless car charger for the iPhone 12 lineup, some of them are really popular. Today, let's have a look of the magnetic wireless car charging mount from ESR and SINREGeek, Both of the 2 brands have launched range of Apple accessories, especially for the iPhone 12.
Specification of ESR Halolock Magnetic wireless car charger
ONLY FOR IPHONE 12: Designed exclusively for the iPhone 12/12 mini/12 Pro/12 Pro Max, HaloLock iPhone 12 cases, and official MagSafe iPhone 12 cases. Not compatible with non-magnetic cases.
SECURE MAGNETIC ATTACHMENT: Powerful HaloLock magnets lock onto your iPhone 12's built-in magnets for a secure hold even through the roughest terrain.
STABLE & ADJUSTABLE: Rotate between portrait and landscape mode or any angle in between. A lockable clamp keeps your iPhone 12 firmly in place.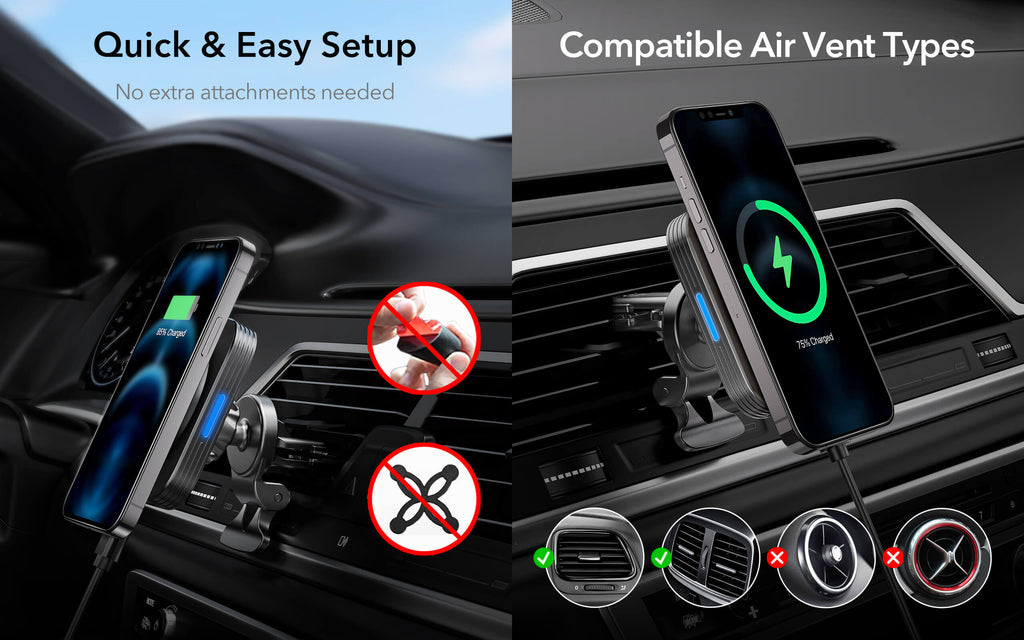 7.5W FAST CHARGING: Supports 7.5W fast wireless charging for the iPhone 12. NOTE: Fast wireless charging requires an adapter or USB port that supports 18W PD/QC fast charging.

Specification of
 SINREGeek Magnetic Wireless Car Charging Mount
The magnets keep the phone perfectly aligned and allow you to place the phone in both landscape and portrait orientation. The only downside is that although the charger outputs 15W power, as of now, it only supports 7.5W charging for iPhone 12 series. If you are looking for a fast wireless charger for the car, this is the one to get.
 The SINREGeek Magsafe Compatible Wireless Car charger is the latest design for the iPhone 12 lineups, Built-in Magnet makes it very easy to align the iPhone 12 to the wireless charger in 1 second! 
Strong MAGNETS. 38pcs extra strong magnets to firmly hold phones. If your mobile phone is not iPhone 12 series, they also provide a magnetic plate which allows your phone to be magnetic to align the charger.
Adjustable mounting angles. Ball joint allows your phone to be viewed at multiple angles. Air Vent Mounting: Twist and Lock feature installs vent clip directly onto vehicle air vents safely and securely
Alignment: Product comes with alignment guide that will help customers locate the right location to place and mount with their metal plate kit.  SINREGeek recommend thinner cases and vertical mounting position for optimal performance